Welcome to the itchy page for Purple Games Studios. We are mainly a Game Development team, but that hasn't stopped us from doing our own pixel art, music and graphics. Currently we are a team of 2 and are always searching for new people to help with our projects. This originally was called "Blakkid Productions," but after a few leering comments from gamers, it was clear that this needed to change. After teaming up Ladi_Pix3l, we agreed of the name "Purple Games Studios." This was due to 2 different factors. We both love the color purple, and Ladi_Pix3l had a nice layout on how the logo should be.
Ladi_Pix3l and I, Smirnoff100, want to make games that are fun and inexpensive. We don't believe in charging an arm and 3 legs for a fun game. Below you will see some descriptions of team as well as ways to get ask for work if needed.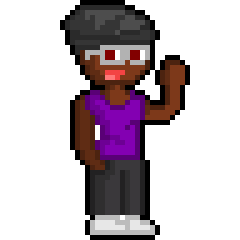 Hi I'm Ray, I'm the black guy and Lead programmer of the team. Started making games around 2007, maybe 2006. I honestly can't remember. Most of my online friends know me as Smirnoff, so feel free to refer to me as such. 80% of the games listed on the Games page are made by me only. You'll know this due to the art done in MS paint. About late 2016 I started to take the "Art" in my games seriously and took some pixel courses online.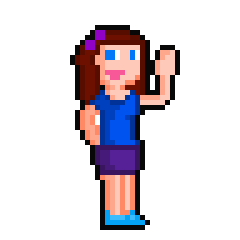 Ello Gov'na, my name is Nicole. I'm also known as Ladi_Pix3l. God I'm so bad at typing….umm…I'm the Lead Artist/Animator for Purple Games Studios. I joined Smirnoff around mid-2017. Back then he was known as Blakkid489. I joined him because I wanted to help bring his games to some new light. I didn't have any programming knowledge but I did have some skills on the pixel art side. So in turn, I'm helping Ray in learning Pixel Art (besides him taking classes), and he's teaching me about GML. GML is Game Maker Language that's only used in the program Game Maker Studio. I feel like we make a good team and I can't wait for you guys to see some of the new work we have for you.